Guide for External Users
Caution
Please set your mobile phone to silent mode and refrain from talking on the phone.
Smoking, eating and drinking are prohibited in the library.
Please take your valuables with you at all times.
Please return materials to the bookshelves after you use.
Browsing
Please fill out the application form (for visitors) at the Service Desk.
All of the materials in the library are accessible freely.
MAP →"Library Floor Map"
Books are arranged on the shelves by "Call Number" on their spine labels.
According to NDC (Nippon Decimal Classification) printed at the first line of the label, books are shelved from left-to-right and top-to-bottom. And when many books have the same Classification Number, they are placed in alphabetical order by the second line of Author's Initial (the first letter or letters of the author's last name) .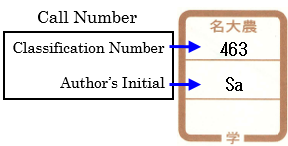 Journals are arranged in alphabetical order of the titles.(Non-Japanese : ABC, Japanese : Kana)
Bldg.B Stack
Back issues of Japanese Journals (before 2011) are stored in the Building B Open Stack Room (Room No.B227).
MAP → "The location of the Stacks (Bldg.B)"
We recommend you to ask details of the material by e-mail or telephone in advance.
If the material that you would like to copy is not good state, you only browse.
Materials in Laboratories
OPAC's Location "Agr ■■■" means the material is held in laboratory.
ex) Agr Crop Sci, Agr (BBC) Anim etc...
If you would like to use the material, please ask at the Service Desk.
*It will take time to ask and borrow from Laboratory. We recommend you to ask details of the material on ahead by e-mail or telephone.
Self-Service Photocopying
All users must comply with Copyright Law when photocopying of library materials.
You can't make photocopies at private expense in the library.
Please make temporary borrowing materials first, and then use a copy machine outside.
If you wolud like to copy materials, please come to the library between 9 a.m. and 5 p.m.
Library Catalogs
OPAC (Online Public Access Catalog)
OPAC is the Online Library Catalog for all the NU Libraries and Laboratories. And it provides location status information for books, journals, and other library materials. You can access OPAC from off campus.
Interlibrary Loan
To obtain our library materials by ILL, submit a request through your home library, which is any academic, institutional, or local public library where you have borrowing privileges. For further details, please ask at your home library.
| Type of Service | Charge |
| --- | --- |
| CopyOrder | Black / White 35 yen (Color 105 yen) / Sheet + Postage Charge |
| LoanOrder | Round-trip postage |