Guide for AGR Members
Guide for Printing

Caution
Please set your mobile phone to silent mode and refrain from talking on the phone.
Smoking, eating and drinking are prohibited in the library.
Please take your valuables with you at all times.
Please return materials to the bookshelves after you use.
Library Cards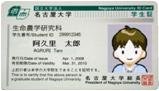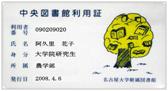 The members of Nagoya University who have No Student ID or Staff ID can substitute Central Library Card as our library card.
If you do not have library card, please fill out the application form.
Faculty / Staff / Graduate students can use our library during closed dates from 9 a.m. to 8 p.m.
*Browsing and Photocopying at University Expense Only.
Browsing
Books are arranged on the shelves by "Call Number" on their spine labels.
According to NDC (Nippon Decimal Classification) printed at the first line of the label, books are shelved from left-to-right and top-to-bottom. And when many books have the same Classification Number, they are placed in alphabetical order by the second line of Author's Initial (the first letter or letters of the author's last name) .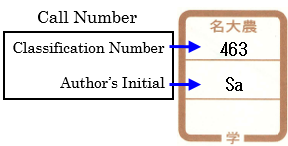 Journals are arranged in alphabetical order of the titles. (Non-Japanese : ABC, Japanese : Kana)
Bldg.B Stack
Back issues of Japanese Journals (before 2011) are stored in the Building B Open Stack Room (Room No.B227).
MAP → "The location of the Stacks (Bldg.B)"
The entrance door of the stack room is usually locked and there is an intercom in the wall on the left hand side.
When you enter the stack room, please press the intercom button and tell your affiliation and name.
A librarian will unlock the door remotely.
If you would like to borrow or photocopy (Private Expense) materials held in the stack room, please bring them to the Service Desk of the library.
※If the material that you would like to copy is not good state, you only browse.
Materials in Laboratories
OPAC's Location "Agr ■■■" means the material is held in laboratory.
ex) Agr Crop Sci, Agr (BBC) Anim etc...
If you would like to use the material, please ask at the Service Desk. We ask the laboratory, and you will visit to borrow there.
Circulation Services
To check out library materials, bring them to the Service Desk and present your ID card.
When you borrow unbound journals, you will need to fill out a loan application form.
Call No.
OPAC Location
Types of Materials
Location
Loan Limits
Loan Periods
Agr Lib Books for Students
Books for Students
Reading Room
3 items
7 days
Audio-visual Materials
Browsing Room
2 items
Agr Lib Books in Stack
Books in Stack
Japanese
Stack Room 1F
5 items
Non-Japanese
Stack Room 2F
Agr Lib Collection

*

Books in Stack
Japanese
Non-Japanese
Bldg.B Stack
-
Agr Lib Journals
Bound Journals
Japanese
Bldg.B Stack
(~2011)
2 items
2 days
Browsing Room
(2012~)
Non-Japanese
Stack Room 1F / 2F
Unbound Journals
Reading Room
Browsing Room
10 items
* If the material that you would like to copy is not good state, you only browse.
Non-circulating materials
Reference books(encyclopedias, dictionaries etc.)
Dissertations
Some of audio-visual materials
Temporary Loans
Instead of returning on the same day, you can borrow almost everything (except dissertations and some of audio-visual materials) without loan limits of number.
Vacation Loans
During summer and winter vacations, loan periods will be extended.
Renewals
You can renew the material via OPAC.
Unless requested by another user.
Unless the material you borrowed overdue.
Reservations
Reservations can be made only for materials currently out on loan to another user (except journals and materials in laboratories)
In OPAC's Bibliography Details, a "reserve" button appears. Click on it and follow on-screen instructions.
Returning Materials
Please return materials into the "Return Box" on the Service Desk.
Please return materials into the "Book Return Box" at outside of the Library during the closed dates.
If existing overdue loans, you may not be borrowed any materials.
Self-Service Photocopying
All users must comply with Copyright Law when photocopying of library materials.
University Expense
Please use a copy card distributed to each laboratory and fill out a photocopy application form for University Expense available on the desk of the Copy Room.
Network Printer (University Expense Only)

A color copier (Copier Type : FX DocuCentre-ⅣC4470) in the library is available as a network printer.
"Network Printer Setup User's Manual" (Japanese Version Only) is downloadable from the AGR-Office website.
Black / White
Color
Hours
University Expense
9 yen / sheet
45 yen / sheet
Mon. - Fri.
9 a.m - 8 p.m
Private Expense
You can't make photocopies at private expense in the library.
Please borrow or make temporary borrowing materials first, and then use a copy machine outside.
Library Catalogs
OPAC (Online Public Access Catalog)
OPAC is the Online Library Catalog for all the NU Libraries and Laboratories. And it provides location status information for books, journals, and other library materials. You can access OPAC from off campus.
Please also refer to "1. How to Search NU Libraries Online Catalog" .
Electronic Journals
Online Request【 AGR Members Only 】
Bioagricultural Library welcomes requests / recommendations for the purchase of books from AGR faculty, staff and students.
→ Books Request
If you have a reference question or need help finding materials, please fill in the web form below.
→ Reference Inquiries
*You are able to access in campus.
Using Materials of Other Libraries
Visiting Other Departmental Libraries of NU
All the departmental libraries are accessible to the members of NU.
Library regulations vary depending on each library. Before visiting, please read the User's Guide on each website.
→ Libraries in Nagoya University
→ NAGOYA University Library ServiceGuide
Visiting Other University Libraries
CiNii Books and OPAC provide a database for searching the union catalog of books and journals held in the major Japanese academic libraries.
When visiting other university libraries, some of them may require a Letter of Introduction from the user's home library.
If you need such a letter, please apply at the Service Desk of the Bioagricultural Library.
→ (example) WWW Servers in Japan, Academic Libraries (Tokyo Insutitute Technology Library)
ILL (Interlibrary Loan)
→ "How to request photocopies / loans (InterLibrary Loan = ILL)"

Information Retrieval
There are some library public's computers which allow users to search a variety of electronic resources during the opening hours.
NUWNET wireless access points exist in the Reading Room for NU members to connect their own devices to the campus network.
※ Warning for using NUWNET ※
Bioagricultural Library assumes no responsibility for your devices is infected with viruses or data loss. We recommend that you install antivirus software and backup of the data.