Research Subjects
Chlorophyll biosynthesis
Loss of photosynthetic growth ability in cyanobacteria
Biochemistry and physiology of dark-operative protochlorophyllide oxidoreductase (DPOR)
Adaptation to low oxygen environments
---
Nitrogen fixation
Creation of nitrogen-fixing plants
Oxygen paradox in photosynthesis and nitrogen fixation in cyanobacteria
---
Circadian Rhythm in Arabidopsis
---
Research Materials
Cyanobacteria
Arabidopsis thaliana
---
---
Members
Professor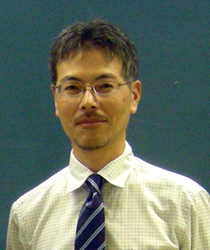 1991
Ph.D. Osaka University
1990-1992
JSPS Fellow, Osaka University
1992-2002
Assistant Professor, Institute for Protein Research, Osaka University
2002-2016
Associate Professor, Nagoya University
2008-2011
PRESTO researcher (JST)
2016-present
Professor, Nagoya University

---
Associate Professor
Takafumi Yamashino
---
Assistant Professor
Haruki Yamamoto
---
Post-doctral researcher
Mari Banba
---
Secretary
Keiko Itoh
---
Technician
Asako Segawa
---
Graduate student
D1

Yoshiki Morimoto

M2

Sara Bakri

M2

Madoka Adachi

M2

Mikihiro Ichiko

M2

Kentaro Usui

M2

Marie Nishio

M2

Kandai Yamada

M1

Nao Umeoka

M1

Kyoka Obata

M1

Kaiya Miyazaki

M1

Kotomi Yamamoto
---
Undergraduate
B4

Tasuku Yamada

B4

Yusuke Suzuki

B4

Takahiro Arase

B4

Taisei Sato

B4

Shoya Takahashi

B4

Mayu Chikada

B4

Takeshi Hada

B3 (G30)

Ji Won Kim
---
Selected papers by Yuichi Fujita
Tsujimoto, R., Kotani, H., Yokomizo, K., Yamakawa, H., Nonaka, A., and Fujita, Y. (2018) Functional expression of an oxygen-labile nitrogenase in an oxygenic photosynthetic organism. Sci. Rep. 8, 7380.
Tsujimoto, R., Kamiya, N., and Fujita, Y. (2016) Identification of a cis-element in nitrogen fixation genes recognized by CnfR in the nonheterocystous nitrogen-fixing cyanobacterium Leptolyngbya boryana. Mol. Microbiol. 101, 411–424.
Fujita, Y., Tsujimoto, R. and Aoki, R. (2015) Evolutionary aspects and regulation of tetrapyrrole biosynthesis in cyanobacteria under aerobic and anaerobic environments. Life, 5, 1172-1203.
Tsujimoto, R., Kamiya, N., and Fujita, Y. (2014) Transcriptional regulators ChlR and CnfR are essential for diazotrophic growth of nonheterocystous cyanobacteria. Proc. Natl. Acad. Sci. USA 111, 6762-6767.
Aoki, R., Takeda, T., Omata, T., Ihara, K. and Fujita, Y. (2012) MarR-type transcriptional regulator ChlR activates expression of tetrapyrrole biosynthesis genes in response to low-oxygen conditions in cyanobacteria. J. Biol. Chem. 287, 13500-13507.
Muraki, N., Nomata, J., Ebata, K., Mizoguchi, T., Shiba, T., Tamiaki, H., Kurisu, G. and Fujita, Y. (2010) X-ray crystal structure of the light-independent protochlorophyllide reductase. Nature 465, 110-114.
---